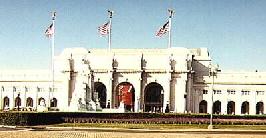 Union Station

Union Station was built jointly by the Pennsylvania (PRR) and Baltimore & Ohio (B&O) Railroads on an area of swampland near the U.S. Capitol Building. The station, designed by architect Daniel Burnham, opened with the arrival of a B&O Railroad passenger train from Pittsburgh on October 27, 1907.





An interior picture





The dining area.
This looks like a great place to have lunch and rest a little.





Ford's Theater

America's transfer from civil war to peace was made more difficult on April 14, 1865, when Abraham Lincoln was shot and killed, just five days after General Lee's surrender at Appomattox Court House. A well-known actor, John Wilkes Booth, desperate to aid the dying Confederacy, stepped into the president's box. Booth's decision to pull the trigger altered the nation's power to reconstruct after the war. Booth escaped into the night as Abraham Lincoln was carried to the Petersen boarding house across the street. It was there that President Lincoln died early the next morning, and became the first American president to be assassinated.



The State Box

Location of the assassination




The National Zoo

For a "little try-out zoo," it was a hit by any measure. In 1887, several thousand people a day crowded in behind the Smithsonian's "Castle" Building in Washington, D.C., to look at an exhibit of a bear, an eagle, badgers, bison and other live animals, most collected from the American West. William Temple Hornaday, the imaginative taxidermist who created this exhibit, was especially happy about its popularity. His future at the Smithsonian depended on his ability to convince the U.S. Congress to pass legislation creating a full-fledged National Zoological Park.



After five years of planning and lobbying, Hornaday's hard work paid off. On March 2, 1889, President Grover Cleveland signed a bill passed by both Houses that officially established the National Zoo and allocated funds for the purchase of land.

We better slip on some comfortable shoes it's a long walk around the zoo.


Giant Pandas

Mei Xiang and Tian Tian are the Smithsonian's National Zoo's second pair of giant pandas. Both were born at the China Research and Conservation Center for the Giant Panda in Wolong, Sichuan Province.



Giraffes



Sri Lanken Elephant

Kandula is the first male elephant ever born in the National Zoo and has become one of the Zoo's most celebrated and cherished animals.



Kandula and mom getting a shower



The Cheetah



A Baby Gorilla



Lemurs



A Lion



Orangutan



The Sumatran Tiger



A Toucan



Zebras



Red Panda



Bactrian Camels



An Iguana



Flamingos

Let's move on.