Gulfport

From its simple, humble beginnings as a lumber and port city, Gulfport has evolved into a diversified community. With about 6.7 miles of man-made white sandy beaches along the Gulf of Mexico, Gulfport is one of the fastest growing areas in the state, due in part to recent gaming activities. Gulfport is the home of the annual "Worlds Largest Fishing Rodeo".



The Port of Gulfport



Biloxi

Biloxi -meaning " First People" in the Indian language - is a blend of many cultures and influences which have dominated its growth. Eight flags have flown over Biloxi : French, English, Spanish, Republic of West Florida, Magnolia State, Confederate, State of Mississippi and the United States of America.





The Boardwalk

The Biloxi Beach Boardwalk along Highway 90 is a favorite of locals and tourists alike. The President Casino and the Treasure Bay Casino are in the distance. Looks like a great way to spend an afternoon.

There are many things to see and do in Biloxi for the whole family such as shopping,sightseeing,or just relaxing on the beautiful beaches. Biloxi has several casinos if you really feel lucky.

Mississipi has an abundance of state parks. Fun can be found for people of all ages. Let's look at a few of them. There are more we can take in as we continue on.

State Parks



Trace State Park



Legion State Park



Natchez State Park



Causeyville General Store

This general store and gristmill, opened in 1895, is listed on the National Register of Historic Places. Stone ground corn meal is produced on the premises. For more than 90 years, hoop cheese has been sliced for customers on site.
If you look closely you can see our Chevy being gassed up. Marcy, Bev and I are inside buying some munchies. Let's look around awhile.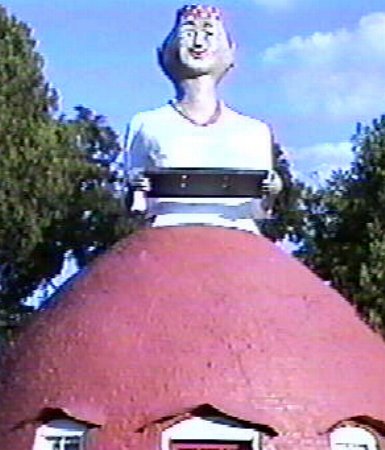 Mammy's Cupboard

Near Natchez,this place remains a startling icon along today's politically corrected highways -- one of those "Did I really see what I think I saw" mirages. Mammy's Cupboard is a restaurant built inside a 28-foot tall black woman's skirt. The original restaurant opened in 1940, and has endured cycles of decay and restoration. Our photos were taken during a rather worn-down phase, paint peeling and both arms crudely amputated.Repairs have been made since this picture was taken.

Meridian

During the early 1860s, Meridian was a small community of 15 families. New growth was spurred by the town's strategic geographical location for railroads. During the Civil War, Meridian was the site of a confederate arsenal, military hospital, prisoner-of -war stockade and headquarters for a number of state offices. Today it is a bustling town with lots of things to do and see.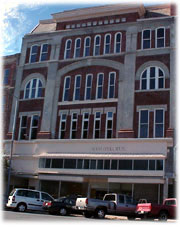 Grand Opera House of Mississippi

First opened in 1890, the Grand Opera House was the most beautiful theater in the state. Many of America's stars of yesteryear graced the stage, including notables Sarah Bernhardt, Amelita Galli-Curchi, Otis Skinner, Madame Modjeska, George Arliss, Tyrone Power (the elder), Helen Hayes and possibly a teenage George Gershwin.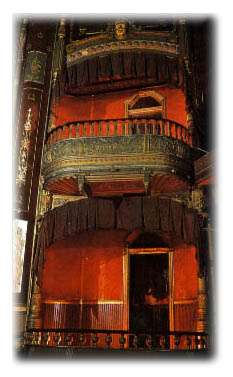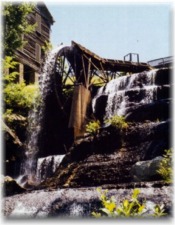 Dunns Falls

Located in nearby Enterprise, this 65-foot waterfall was once used as a power source for a gristmill and for the manufacture of Stetson hats.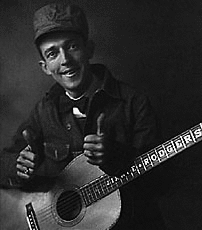 Jimmie Rodgers
The Singing Brakeman

The Father of Country Music. That's a heavy load for a scrawny, tubercular ex-railroader who set out only to prove to the folks back home in Meridian, Mississippi, that he wasn't the shiftless no-count they all thought he was. When Jimmie Rodgers arrived on the scene, there was no such thing as 'country music.' It was just beginning to be called 'hillbilly' - and whatever it was, Jimmie Rodgers wasn't much interested. He dressed in the latest uptown-style box-back coat, bow tie, and snappy straw boater and cultivated a broad repertoire which, at the outset at least, leaned decidedly in the direction of current hits from Tin Pan Alley: Who's Sorry Now?, I'll See You In My Dreams, How Come You Do Me Like You Do?, and similar pop fare of the 1920's.



The Jimmie Rodgers Museum

There have been many fine musicians born in Mississippi. Blues happen to be my and Joe's favorite style of music. Just click the "Guitar" and let's learn a little about a few of them.